Medicine Business
New development of cultivated R&D abilities within medicine business.
Contributing to people's health and beauty…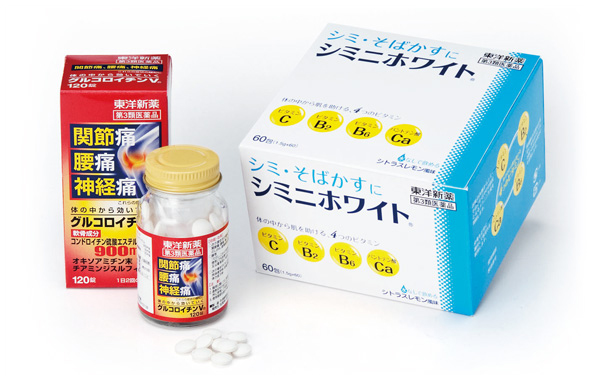 With the aim to contribute to people's health and beauty, TOYO SHINYAKU has developed health food business and cosmetic business, but in order to contribute to the well-being of even more people through medicine, we have also newly launched a medicine business section and begun handling OTC medicines.
With the super ageing society becoming imminent and people more highly aware of self-medication, OTC medicines are now becoming more necessary. By covering a wide range of health and beauty-related areas (including medicines, health foods, FOSHU, cosmetics and quasi-drugs), we will respond to the various needs you may have.
Not only that, as we challenge the new area of medicines, we are putting our great strength in product development in that area to advance the development and manufacturing of health foods and cosmetics backed by higher-level of 'evidence' (scientific proof).
Overseas Business
Global search of business opportunities and potentiality of new ingredients
Good health is a wish commonly shared by human kind.
As we ride upon the waves of the borderless era, our business now extends beyond Japan toward the rest of the world. TOYO SHINYAKU has established a branch office in Frankfurt, Germany. We are working to widen our sales channels outside of Japan by actively challenging new strategies such as for branding license agreements and sales contracts. We believe our wish to create globally popular products is not just a dream.
1.Collecting and examining information on resources from around the world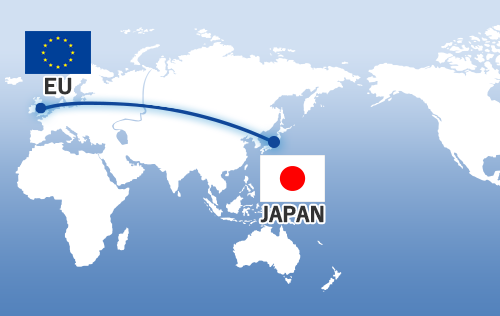 Around the world there exist an abundance of ancient local medical practices and unknown health resources (ingredients and materials). In countries with advanced health foods culture including the US, such information has already been thoroughly studies and the effects of such resources confirmed. There are many such resources that are not yet introduced to Japan. The role of our overseas offices is to seek out attractive resources from this enormous amount of information, collect related data, check patents, and pave way to the commercialization of products through license agreements. The ability to single-handedly accomplish all this process that requires great efforts is also TOYO SHINYAKU's forte.
2.Clearing various hurdles to the commercialization of the product
Based on the selected information and considering its evidence and originality, we narrow down the potential raw materials that are to be developed for commercialization by TOYO SHINYAKU. There is yet another critical stage where Overseas Business Department's expertise is required after selecting these materials. Clearing a number of hurdles such as full-fledged data collection on raw materials, investigation on patent's existence or nonexistence, or license agreement with patent holders, we foster raw materials so that we can safely distribute them in Japan.
The "FLAVANGENOL®" our self-developed material, has been created as TOYO SHINYAKU's original material through a series of these processes. It also is our strong point that such tremendously effort-requiring processes can be operated solely by ourselves. In the meantime, the second and the third "FLAVANGENOL®" are on their way after another.
3.Exploiting and facilitating overseas business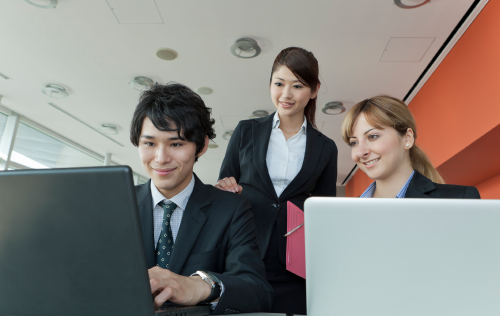 We also committed to the expansion of overseas distribution routes. To operate ODM & OEM internationally, we make contacts with foreign companies with different selling systems, and we are attempting new strategies including brand license agreement and sales agreement
NOTE: "FLAVANGENOL®" is registered trademark of TOYO SHINYAKU Co., Ltd.