Food for Specified Health Use (FOSHU)
No.1 FOSHU approvals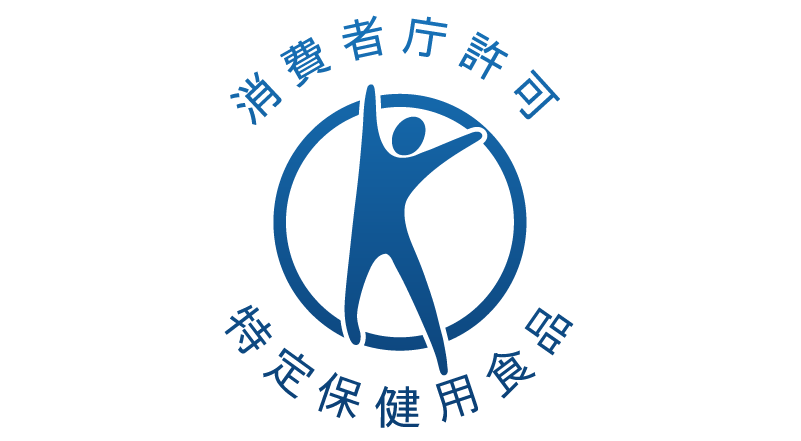 As people become more aware of "primary prevention of illness" due to the aging of society and the increase of medical costs, the Food for Specified Health Use (FOSHU) Business market has been expanding every year. TOYO SHINYAKU has been focusing on obtaining the FOSHU approvals as part of our business, which is to contribute to the health through food. The current number of our FOSHU products tops the list with 259 products, creating an extensive product line.
1.Company Ranking of most FOSHU approvals
|   | Applicants | Number of approvals |
| --- | --- | --- |
| 1 | TOYO SHINYAKU Co., Ltd. | *259 |
| 2 | Mondelēz Japan Limited | 49 |
| 3 | Suntory Beverage & Food Limited | 45 |
| 4 | YAKULT HONSHA CO., LTD. | 42 |
| 4 | AJINOMOTO GENERAL FOODS, INC. | 42 |
| 6 | Kao Corporation | 41 |
| 7 | Mannanlife Co., Ltd. | 34 |
| 8 | Asahi Soft Drinks Co., Ltd. | 28 |
| 9 | ITO EN, LTD. | 27 |
| 10 | Lotte Co., Ltd. | 22 |
Source: Information published by the Consumer Affairs Agency on November 29, 2021.
* Actual number of acquired approvals is 300.
With ever increasing varieties of health food available these days, one great advantage of FOSHU is that we can promote their functionality by clearly answering the question about what kind of effects can be expected. Since we started the business, we have been committed to developing FOSHU products and acquiring appropriate approvals. Today, we are proud of having an extremely successful FOSHU development history in having obtained the largest number of approvals—outdistancing by far other companies nationwide.
2.What are FOSHU ?
FOSHU is a name given to foods that contain functional ingredients (functional components) effective in the maintenance and promotion of health (physical conditioning function) and display specific health use (functionality) such as "to help maintain intestinal condition" on the packaging. In the application process, business operators have to submit scientific data on efficacy, safety, quality and other evidence for their products, which should be approved only after a one- to five-year period of strict examination and evaluation by the relevant ministry.
Examples of approved Health Claims for FOSHU
| | | | |
| --- | --- | --- | --- |
| Foods to relieve stomach condition | Foods for people with relatively high blood pressure | Foods for people started to care about their blood sugar level | Foods for people with relatively high blood cholesterol level |
| Foods for people with relatively high blood cholesterol level to relieve stomach condition | Foods for people caring about neutral fat in the blood and body fat | Foods for people caring about body fat, with relatively high blood cholesterol level | Foods to facilitate the absorption of minerals |
| Foods to facilitate the absorption of minerals and relieve stomach condition | Foods for people caring about bone health | Foods that unlikely to cause cavity and foods that make the teeth strong and healthy, and foods that keep gum healthy |   |
According to the classification by Japan Health Foods & Nutrition Food Association
3.FOSHU Market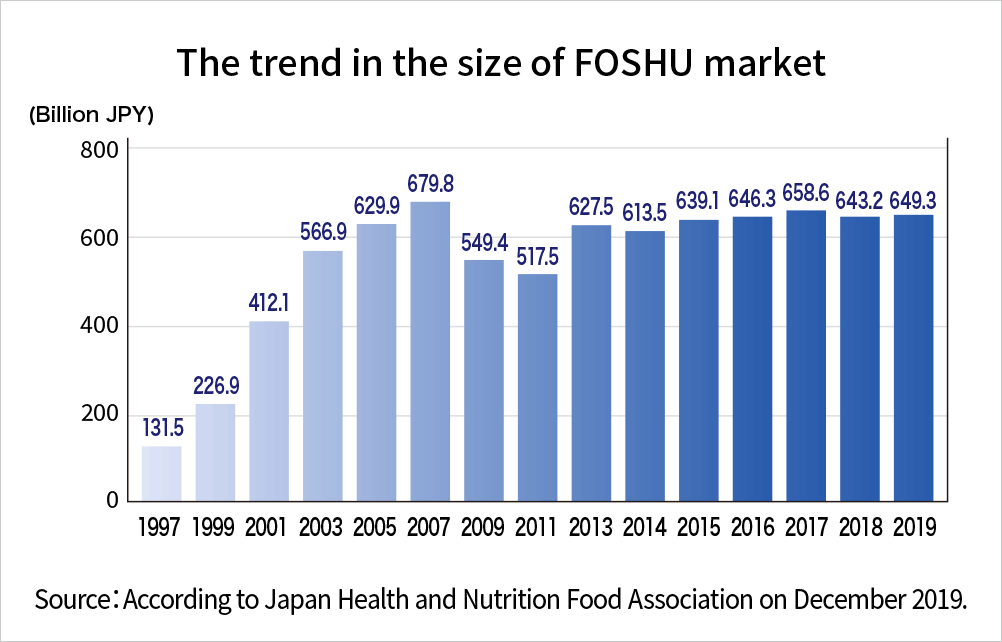 According to Japan Health Food & Nutrition Food Association, the size of FOSHU market in 2019 was 649.3 billion yen, about 5 times higher than 1997.
4.Greatly reduce development costs, development period, and resources for FOSHU
It is not an easy task to develop FOSHU. Proofs of its safety and efficacy nearly as extensively as for pharmaceutical products are required; therefore, a number of experiments, including clinical trials have to be operated to obtain medical and nutritional evidence. Despite the fact that it requires a considerable amount of time to apply in addition to the burdens such as an immense amount of time and money, human resources, facility investment, there is no guarantee that FOSHU approval will be granted. Moreover, it is possible that the market will have changed significantly by the time the FOSHU approval is granted.
TOYO SHINYAKU supports the introduction of FOSHU to your company, providing the services that greatly reduce necessary development costs, development period, and even for the risks.
5.CRO Activities FOSHU development support to meet customers' needs
What is TOYO SHINYAKU's CRO (Contract Research Organization)?
CRO (Contract Research Organization) is a clinical consignment organization. However, our CRO activities are not simply to take on consigned clinical tests, but also provide a complete support with the acquisition of FOSHU patents in mind. By harnessing our advantage as a ingredients developer and manufacturer, as well as our knowledge in regard to FOSHU patent acquisition as symbolized by our No. 1 nationwide patent acquisition, we build consistent systems to include related tasks from ingredients development to product design, test planning, testing, support for the acquisition of patents, manufacturing, all the way up to sales promotion support. We can flexibly help with your FOSHU development.
Surprisingly, many customers are troubled when it comes to FOSHU development, with questions like: 'We have no idea how to go about developing FOSHU,' 'We did the same tests done by companies who have already acquired their FOSHU patents, but we are still unable to get ours,' 'We invested an enormous amount of development fund and human resources but we are unable to acquire FOSHU patent,' among many others. The cause of their problems is because of the latency of the knowhow related to FOSHU development within their company data that usually does not get to see daylight. At TOYO SHINYAKU, we are here to help with your FOSHU development by putting our FOSHU development experience and results to full use. Even if your company possesses absolutely no knowledge about FOSHU, TOYO SHINYAKU is here to support you from the start.
Necessary process for FOSHU development
From product planning to manufacturing, clinical tests and patent application. Because TOYO SHINYAKU knows everything there is to know about FOSHU development, we can offer you our rich expertise.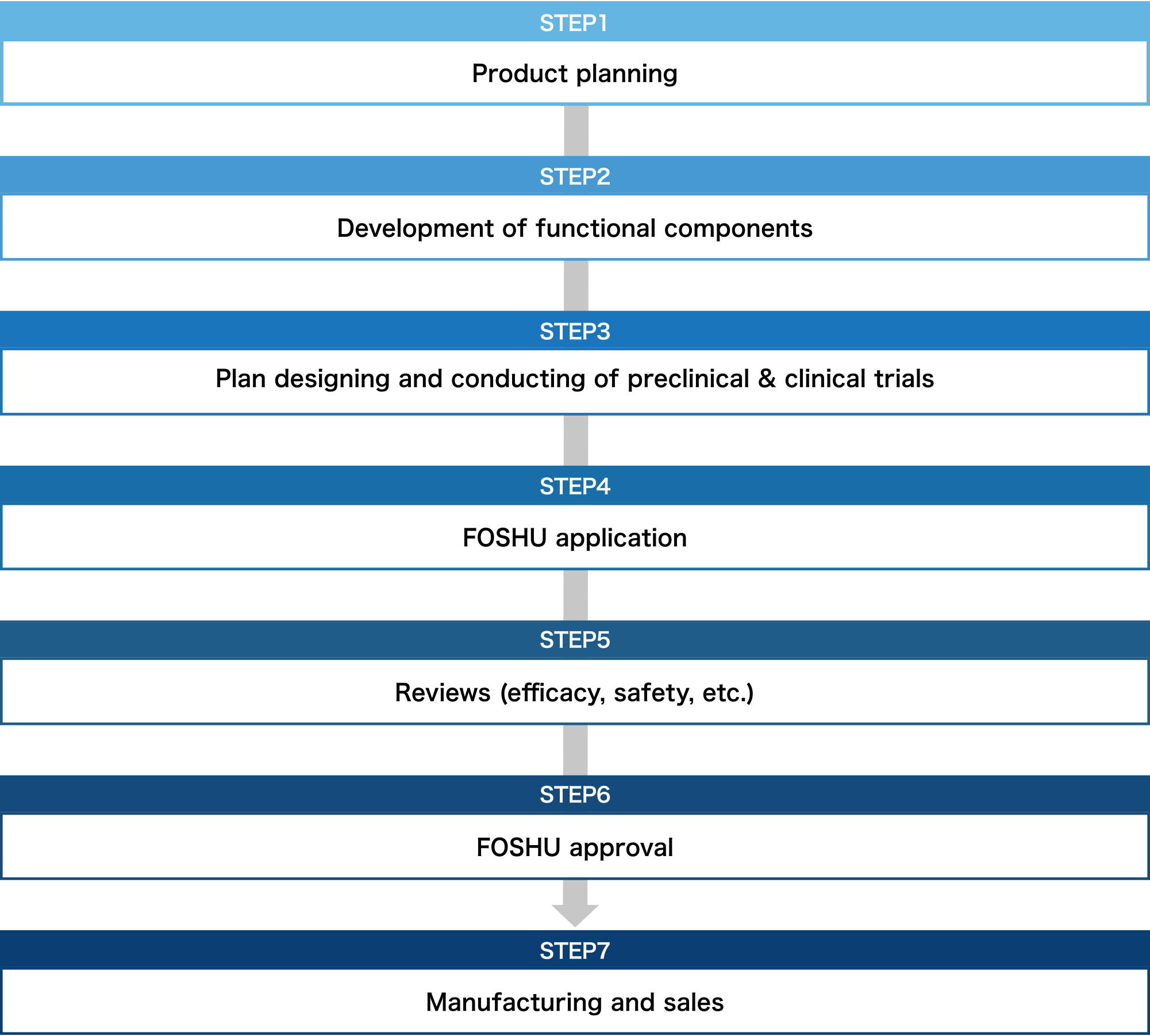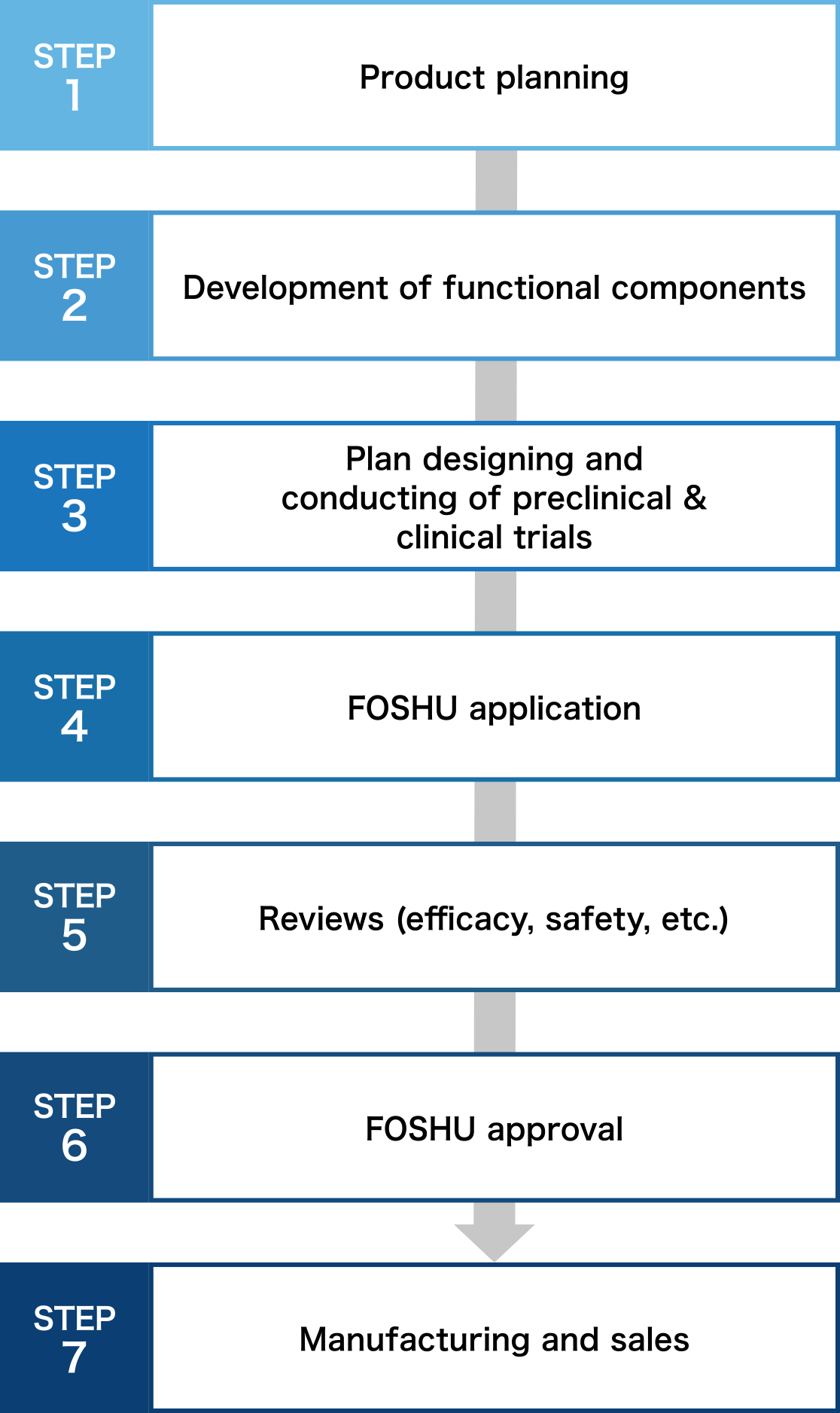 Product planning and development of functional components
Our first step is to examine the possibility of FOSHU application for the component you request by conducting document investigation or interviews with scholars. Concurrently, development of formulation that satisfies FOSHU conditions, confirmation of stability and physicochemical attributes of ingredient or formulation, and establishment of analysis method, etc. are conducted. We suggest the best optimized FOSHU according to your component or sales channel.
Plan designing and conducting of preclinical & clinical trials
We support comprehensively from planning preclinical & clinical trials to conducting them. In addition to efficacy test, excessive intake test, and long-term intake test on products, we propose the functional mechanism investigation, and in vitro and in vivo clinical trials.
Support for manufacturing & sales promotion
We are the first comprehensive contract manufacturer registered as an NSF GMP (the US Standard for appropriate management of production, packaging, display, and storage of dietary supplements)and also obtained JHNFA Dietary Supplement GMP certificate, and ISO9001:2015 and FSSC22000 to ensure even safer operations. Furthermore, we support your sales promotion activities after the product is released.
6.FOSHU Approvals
Requirements for food for specified health use approvals
(1) Improvement of dietary habits and contribution to health maintenance and enhancement can be expected by consuming the product.
(2) Scientific evidence for the claimed health benefit is available.
(3) Clinical and nutritional intake level of the product and/or its functional component is established.
(4) The product and/or its functional component is safe for human consumption.
(5) Following items regarding functional component are defined:
a) Physical, chemical, and biological characterization and its methods
b) Methods of qualitative and quantitative analytical determination
(6) Nutrient constituent of same type of the food is not significantly changed
(7) The food is intended to be consumed on a daily basis and not on rare occasions
(8) The product or its functional component is not included in the medical drug list.
Excerpt from the Notification Shoushokuhyou 259, 30th October, 2014